Description
The gutter nests inside the fascia bracket and can be secured down in the following ways:
Screw Installation
A black oxide stainless steel machine screw is placed through the front of the fascia bracket and gutter, then anchored on the inside with a flanged nut.
Tab Installation

A tab is secured to the fascia bracket with a black oxide stainless steel screw and t-nut. The tab is folded over the gutter to secure in place.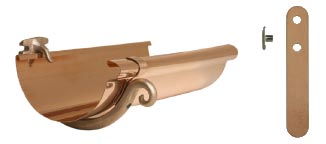 For an angled fascia application we offer wedges to be used with our fascia brackets. In a situation where a fascia installation is not applicable a fascia bracket with a roof bar can be used.